Tips for your international curriculum vitae
Your CV or resume is a short written summary of your career, qualifications, and education. Savvy international teachers write a CV that is only two pages in length –  brief and to the point, as they know recruiters are often pressed for time, especially when they employ at a job fair.
From a recruiter, "My opinion is that the CV has a photo and personal information (date of birth, passport information, dependent information, home of record) at the top, followed by educational qualifications and teacher registration/certification information (are they a certified teacher?), Work experience should be listed from the most recent job first and work backward…. I then jump to the end to see if they have any other differentiating features such as additional qualifications, whether they have done IB workshops and when they completed this, and if they have any other work experience or interests that may add value to our school and may differentiate them from the next candidate".
Share your CV with your friends, teaching or otherwise, and ask for their feedback. Let their clarifying questions guide you on what you may need to include. Spell check and proofread! Recruiters don't give second chances if you don't get your CV right!
Search Associates recommend including the following:
Contact details
Family status (single, married, children, etc)
A passport-sized head and shoulders photo (this is entirely optional)
Teaching Objectives/Philosophies: this is a statement about your belief system and the philosophical underpinnings that shape your views on education.  You can include statements on your belief about student management, differentiation, assessment, or general beliefs you have regarding factors for student success.  We recommend embedding this document in the resume, rather than having it separate.  About a third of a page or less is sufficient for a strong philosophical statement.
Qualifications
Relevant teaching experience
Hobbies and interests outside school
Recent relevant Professional Development
Referees – usually 3
These may be updated/uploaded on your profile at any time.
EXAMPLE ONLY: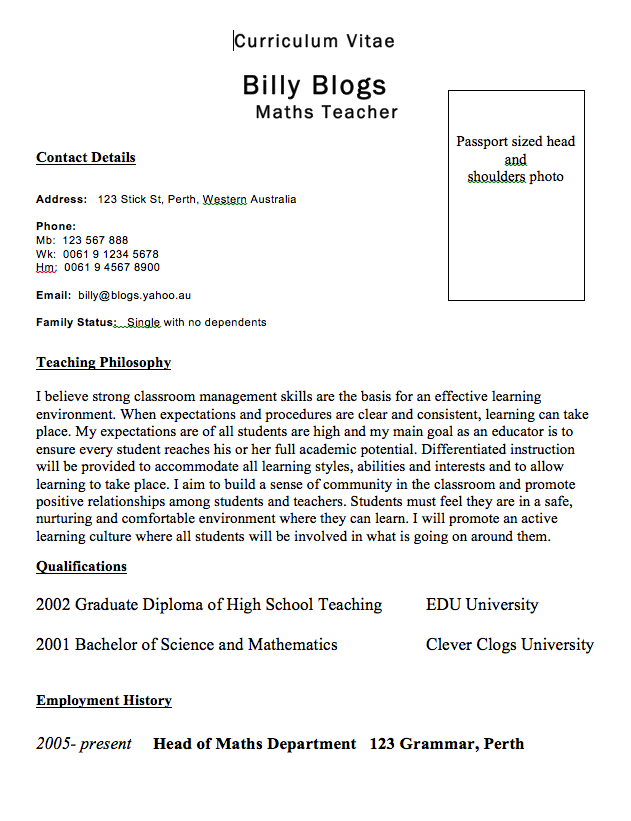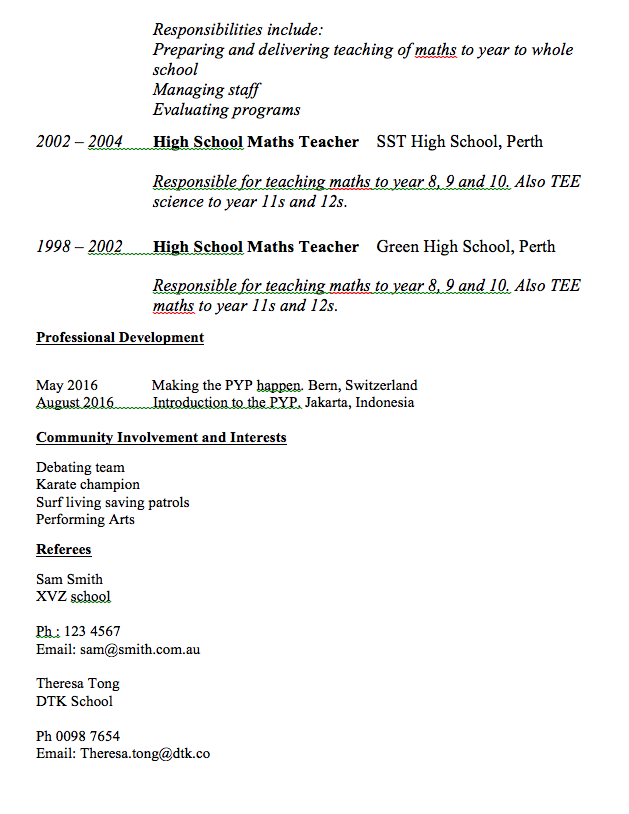 See more: YOUR RESUME: WHAT RECRUITERS WISH YOU KNEW
Bio Notes
The bio notes, which are one of the sections of your online application, are a biographical summary of some of the experiences that have shaped the teacher that you are today.  It is good to emphasise things like travel experiences, work experience, and accomplishments that have impacted your life.
How have these experiences to date built your confidence, skills, and approach to teaching?  Why are you ready for this next move (from an education/school perspective).  What can you offer, educationally, that no one else can? The online application restricts the length of the bio notes to approximately half of a page.