Tips for preparing a professional CV
International School CV's need to be 2 pages in length and reflect your teaching experiences. They should be short, concise, and easy to read; exactly what recruiters are looking for, and include the following:
Contact details
Family status (single, married, no dependents etc)
A passport sized head and shoulders photo
Teaching Objectives/Philosophies : this is a statement about your belief system and the philosophical underpinnings that shape your views on education.  You can include statements on your belief about student management, differentiation, assessment, or general beliefs you have regarding factors for student success.  We recommend embedding this document in the resume, rather than having it separate.  About a third of a page or less is sufficient for a strong philosophical statement.
Qualifications
Relevant teaching experience
Hobbies and interests outside school
Recent relevant Professional Development
Referees –  usually 3
These may be updated/uploaded again at any time.
EXAMPLE ONLY: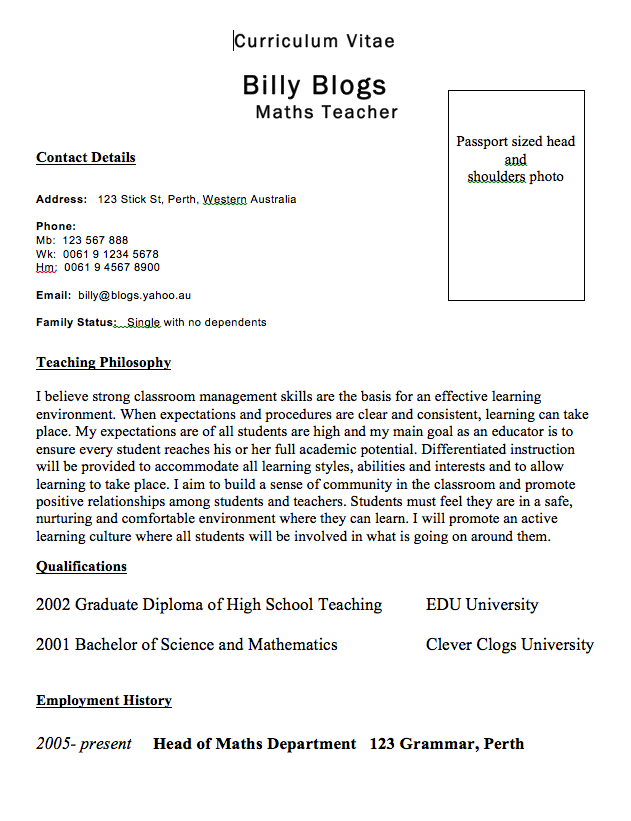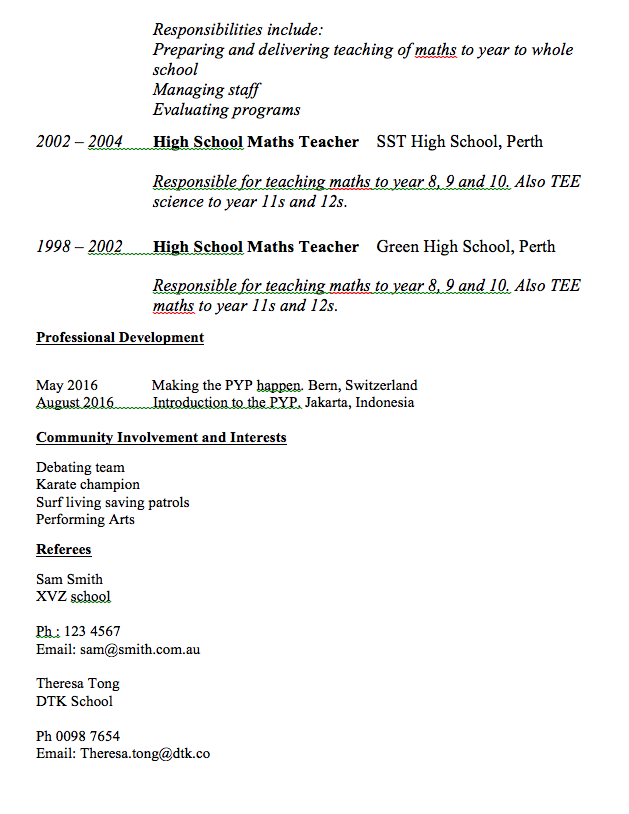 See more:
YOUR RESUME: WHAT RECRUITERS WISH YOU KNEW
Bio Notes: The bio notes, which are one of the sections of your online application, are a biographical summary of some of the experiences that have shaped the teacher that you are today.  It is good to emphasise things like travel experiences, work experience, and accomplishments which have impacted your life.
How have these experiences to date built your confidence, skills and approach to teaching?  Why are you ready for this next move (from an education/school perspective).  What can you offer, educationally, that no one else can? The online application restricts the length of the bio notes to approximately half of a page. Contact our office for examples if necessary.