The story behind the Search Associates Melbourne Fair
The Search Associates Melbourne Fair caters to experienced Australian and New Zealand teachers, as well as those already in international schools. It's the oldest of all Search Fairs, having been started in 1993 by the founder of Search Associates, John Magagna.
Originally held in Sydney, Nick and Paula Kendell have hosted the Job Fair in Melbourne for the past 10 years, first at the Langham Hotel and now at the InterContinental Hotel. They appreciate that they are in the business of changing people's lives – what a privilege! Emails like the following give them encouragement to keep helping teachers and recruiters connect.
Candidate Kate Boyd wrote,
"I just thought I would write to let you know how much I appreciated the job fair. It was my very first one and I had an amazing time. I can only imagine how much time and effort must go into organising such an event, and yet from what I saw, it ran seamlessly…
Placement rates
Around 70% of candidates in attendance receive at least one job offer. Nick attributes its famously high placement rate to its candidates:
Every year we get comments on the quality of our candidates. Recruiters tell me that they have a remarkable level of professionalism, eagerness, and commitment to their craft.
Consistently high placement ratios over the past few years have made the fair very popular with regular attendees. The word is getting out that if schools want quality teachers, Melbourne is a good place to secure these candidates.
Our team
Nick and Paula are joined by experienced international educators, Chris and Mick Green and Deidre Fischer who come along to "pay it forward" and take part in the excitement of helping candidates achieve their dreams. Between them, they have spent decades teaching in international schools over four different continents, so their guidance to candidates has been indispensable.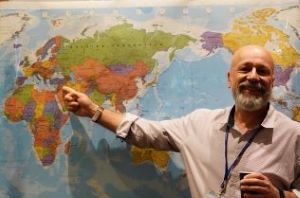 Candidate stories
The Melbourne fair has many success stories.
E

ver since Aydin worked with Yazidi refugees in the prison sector in Toowoomba, he has wanted to teach mathematics in the Middle East. Being married with three kids, he found recruitment with other agencies to be frustrating. However, on day two of the Search Melbourne Fair, he was thrilled to accept a mathematics position in Iraq.

Mel and Nicole were working in Korea when some friends suggested that they attend the Melbourne fair. After a couple of interviews, they accepted positions at the same school in China for their next adventure.
Alex, another attendee came to the Melbourne fair as a "visitor" to meet the principal of his new school in Vietnam, which he had found before the fair through the SEARCH database. He described attending the fair as a "priceless opportunity to have face-to-face interaction, attend school presentations, and network. Alex will travel with his three boys—ages seven, four, and three—and his partner Nerissa who will spend the year settling everyone in. Nerissa is hoping to volunteer at an orphanage and raise funds to provide essentials for the babies, e.g. nappies and formula. She has found online expat groups really helpful for information.
Candidates describe their experiences
… "Early information sessions helped me process how things were going to work – and it was good to hear about the PYP and MYP before I had to face interviewers".
…"Each school I spoke to was outstanding. They were friendly and welcoming, filled with information and never did I get the feeling they had answered my same questions a hundred times already – which I can only imagine they had. The calibre of the schools was exceptional. Staff were clearly enthusiastic about the whole process and their passion surrounding the schools they worked in shone from them. There are so many schools I now have on my list that I would love to work in the future…".
… And finally the staff that ran the show – as exhausted as you must all have been – you had time for our questions and were there to listen to us when we needed it. All in all, I think this was an amazing endeavour and you should all be congratulated on this tremendous event."
The Melbourne Fair is designed to allow school recruiters to engage in in-depth conversations with candidates in a relaxed professional atmosphere. Candidates with domestic experience find that this fair is a great way to start navigating the waters of the international job market.
If you are looking to make a career change, consider Search Associates'  Melbourne Fair. A world of opportunity awaits you!